Fear of the workers´ anti-capitalist struggle !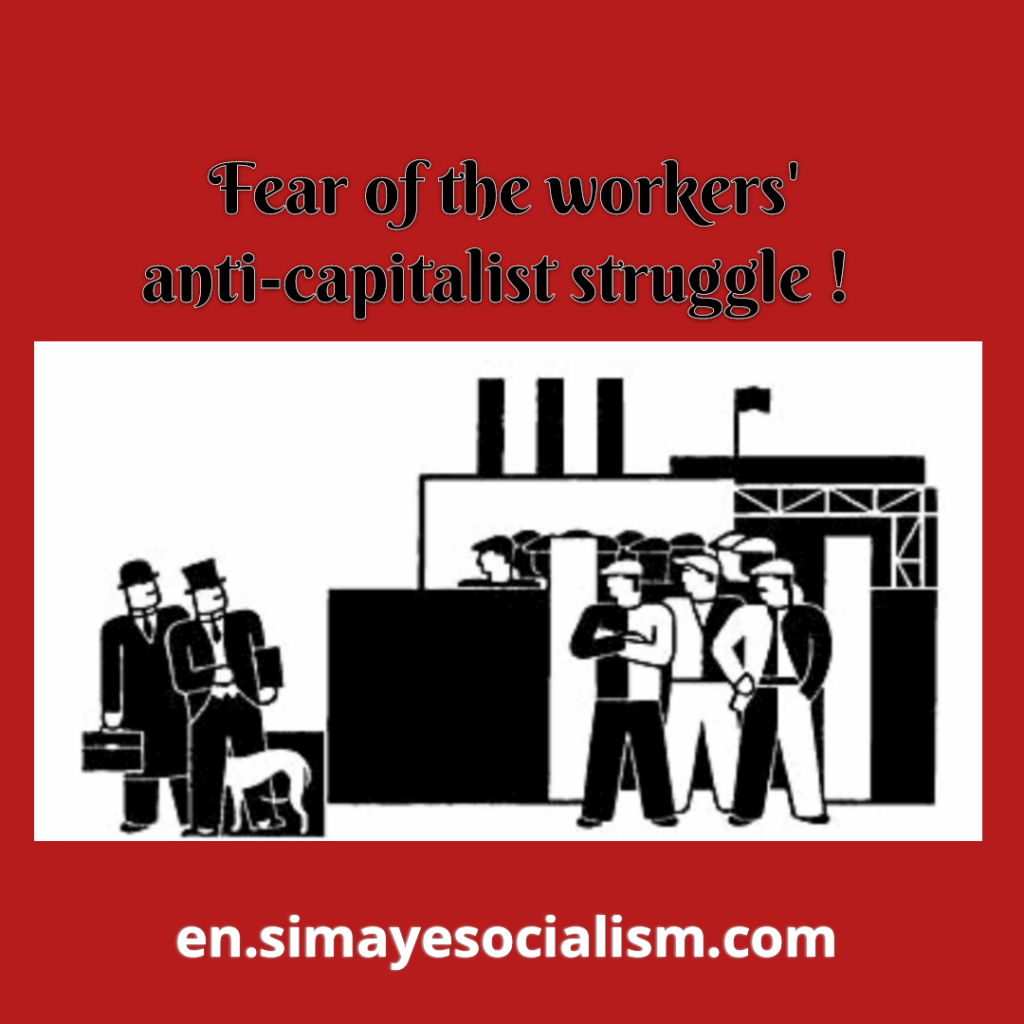 Six organizations that call themselves defenders of workers, that issued a statement about wage rates according to the usual routine at the end of each year, and this time they´ve tried to make their statement adorned with anti-capitalist rhetoric more than previous years !! But all their talks still revolves around reformist content such as : wage increase in proportion to the average cost per household !! in other words, a wage that is sufficient to reproduce their labor force and in meanwhile remain them always being workers although very humble and humiliating !! The question of every anti-capitalist worker from these six groups is that is begging capitalists to add a few cents more to wages is considering as struggle against capitalism ? Do not you mean that pay for our livelihood so that we can with satisfaction remain a wage slave willingly and generate profit and capital ! is this demand an anti-capitalist demand ?! The answer that they always have in pocket and ready to answer with that is that : wage increase is the demand of our daily one !! and in long term we want the destruction of capitalism too !!
If we, the whole life and generation after generation, produce more capital that belonging to the capitalist class, and limit our expectation and struggle to having a minimum cost of food and medicine and other needs to continue the wage-labor, in this case, how can we be a social class that is ready to dismantle capitalism and establish a free and humane, non-exploitative society without classes and state, free from wage- slavery and class oppression !! Capitalism can only be overthrow by a movement that in its cornerstone is manifestation of social spontaneous reaction of the mind and life of the worker against the exploitation and savagery of capital, a movement that fosters and organize this protest, struggle and revolt against capitalism and to proceed in a way that the path of growth and maturity of an organized power that is against wage-labor. Being anti-capitalist isn´t a religious faith that means waiting for saviors to appear and in the sense of the constant worship of capital and waiting for the appearance of the saviors of liberation from capitalism !
The real struggle against capital is that from now on with the power of the workers´ council to be able to take as much of the product of labor and production as possible from the hands of the capitalists and capitalist state and allocate to improve livelihoods and housing, free medicine and treatment, water and electricity and increase the quality of medical facilities, kindergartens, schools and universities and consider all these as a natural right without any conditions for the whole society, whether employed or not . The designers of this declaration of six trade unions or similar one, as long as possible, they consider any talk about the struggle against wage-labor as ultra-radical leftist and daydreaming. According to their very die-hard reformism, workers have to negotiate with capitalists and bargaining about some wage-increase which relies on a legal struggle and hang on to the clauses of the constitution and current labor-law, involve the parliament and the ministry of labor and also at the same time wait for the emergence of leaders who issue a permit to fight for the disappearance of capitalism. Leaders gathering from above and on behalf of the workers under the headings of the syndicate, committee or any other name is the best proof of claim that with them the workers´ anti-capitalist council struggles are irrelevant. If these reformist defenders of capitalist order and laws consider the struggle against capital and capitalism to be spontaneous and inherent of workers, in that case the subject matter of their own existence will be questioned .
Bahram DazkeeJan. 2022